Introducing Cakebot: Approachable AI for Lease Management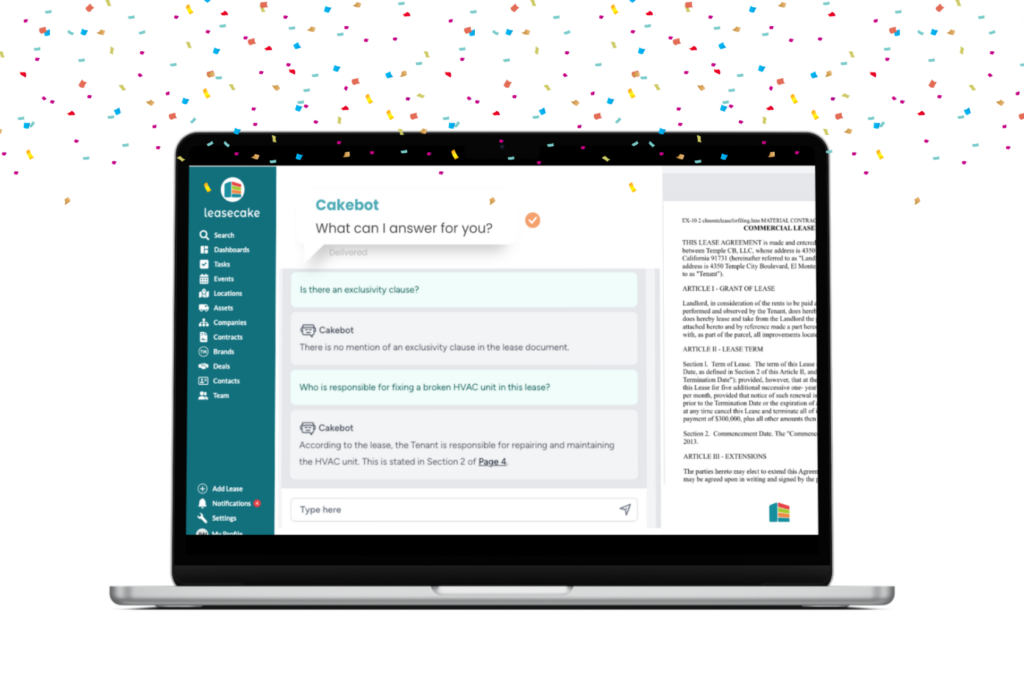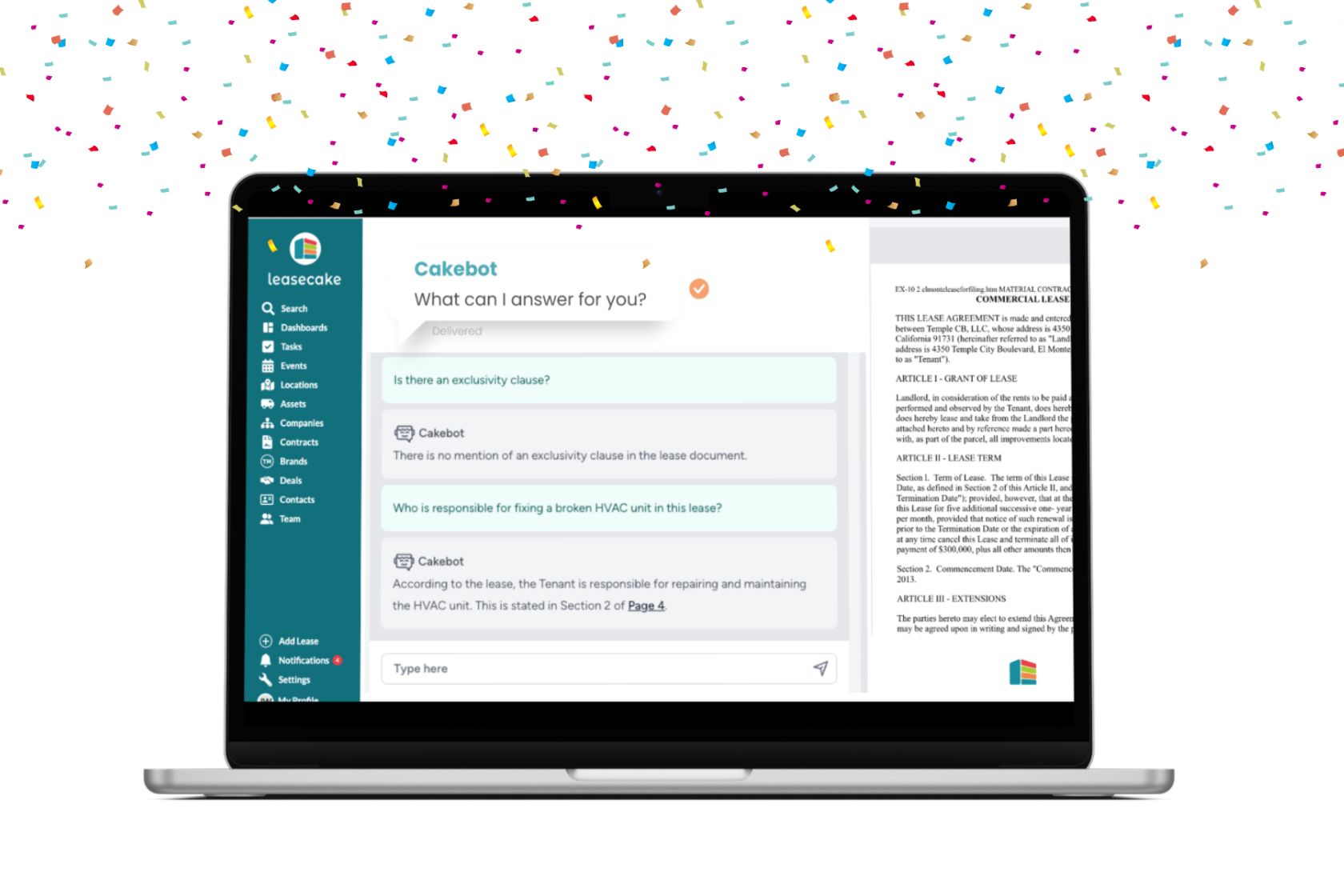 In today's fast-paced real estate landscape, time is of the essence, and understanding complex lease agreements shouldn't slow you down. Franchise owners and operators shouldn't have to struggle with the complexity of lease management. Imagine a world where deciphering lease agreements is no longer a time-consuming and stressful task. That's why we're thrilled to introduce Leasecake's latest innovation: Cakebot. Cakebot uses AI to transform the way you manage leases, empowers your team, and provides you with the insights you need to excel in the real estate industry.
Navigating the Maze of Complex Leases
Leases can be a labyrinth of legal language, filled with intricate jargon that's often challenging to decipher. Misinterpreting lease responsibilities can lead to serious repercussions, making it crucial to get every detail right. Accounting and Real Estate professionals in particular rely on clear lease understanding to perform their roles effectively. Multi-unit operators across Food and Beverage and Service-based Retail are keen on mastering their lease agreements, but time, tools, and support often stand in their way.
Leasecake's AI-Powered Innovation
Enter Cakebot. Our breakthrough AI-powered technology is poised to revolutionize lease comprehension, making it easier than ever to decode lease documents quickly. With the introduction of our Critical Clause Summaries and the intelligent Lease Chatbot, you'll have a virtual lease expert at your side 24/7.
Lease Chatbot: Your Always-Available Lease Expert
Have a question about a specific lease clause? Need clarification on your lease terms? Our Lease Chatbot is ready to assist you in real-time, ensuring you're never alone in your lease journey. With this feature, you'll have a constant source of support and expertise at your fingertips, empowering you to navigate the intricacies of leases with ease.
For example, you can ask Cakebot:
Who is responsible for fixing a broken HVAC unit?
What are the tenant responsibilities outlined in this lease?
What page will I find my Lease Renewal information?
What will the rent payment be in the 5th year? 
Within a couple of seconds, Cakebot goes to work scanning and digesting your lease agreement to provide you with relevant, clear, and concise answers. Cakebot annotates where the information was pulled from the lease so you can easily compare and analyze the results.
Lease Clause Summaries: Crystallizing Complexity
Use AI to transform convoluted lease clauses into simple, easy-to-understand summaries. No more sifting through legal jargon – our tool distills the essence of your lease terms in seconds, providing you with the clarity you need to make informed decisions and be on your way.
For example, AI can take something like this: 
"Tenant's financial obligations encompass a proportionate allocation of Common Area Maintenance (CAM) charges, encompassing expenses germane to the administration, maintenance, remediation, and enhancement of communal spaces within the property. CAM charges encompass, though are not limited to, expenses linked to landscaping, parking facility maintenance, security provision, illumination, signage installation, refuse disposal, and property oversight charges. The quantum of Tenant's CAM contribution shall be determined by deriving the ratio of the leased premises' rentable area to the aggregate leasable area of the property. Tenant's CAM disbursements shall be tendered on a monthly basis in advance, and Landlord shall supply an annual reconciliation of the actual CAM expenditures against the precomputed payments. Discrepancies shall be duly adjusted, resulting in corresponding invoicing or crediting of Tenant."
And turn it into this:
The Tenant is responsible for a share of expenses related to maintaining shared areas (CAM charges).
These expenses cover things like landscaping, parking lot care, security, lighting, signage, and property management.
The Tenant's share is calculated based on the size of their rented space compared to the total property size.
The Tenant pays their CAM portion monthly in advance.
Once a year, the Landlord compares actual CAM costs to the estimated payments and adjusts for any differences.
The Tenant will either receive an invoice for additional payment or a credit if they overpaid.
A Leap Toward Efficiency and Empowerment
Why is this innovation so exciting? 
Time and Effort Saved: Say goodbye to manual lease dissection. Our AI handles the heavy lifting, extracting vital information and presenting it in a user-friendly format, so you can focus your energy on growing your business instead.
24/7 Access: Our virtual assistant is available round-the-clock, offering real-time guidance and support. Never feel stranded when navigating complex lease terms.
Empowering All Team Members: Our intelligent chatbot makes lease insights accessible to everyone. It's especially valuable for Accounting and Real Estate professionals seeking swift answers to lease agreement queries. Catering to their demanding schedules, it ensures timely responses, allowing them to efficiently continue their tasks.
Transform Your Lease Management Today
Leasecake's Cakebot is poised to redefine lease management. Say farewell to confusion, delays, and inefficiency. Say hello to clarity, empowerment, and efficiency. With AI as your ally, you're equipped to master your lease agreements like never before. Join us in embracing the future of lease management – a future where complexity is simplified, decisions are informed, and success is tangible. 
Contact us to learn more about Cakebot and how we can help you modernize your lease management
---