Leasecake Welcomes Scott Williamson as CEO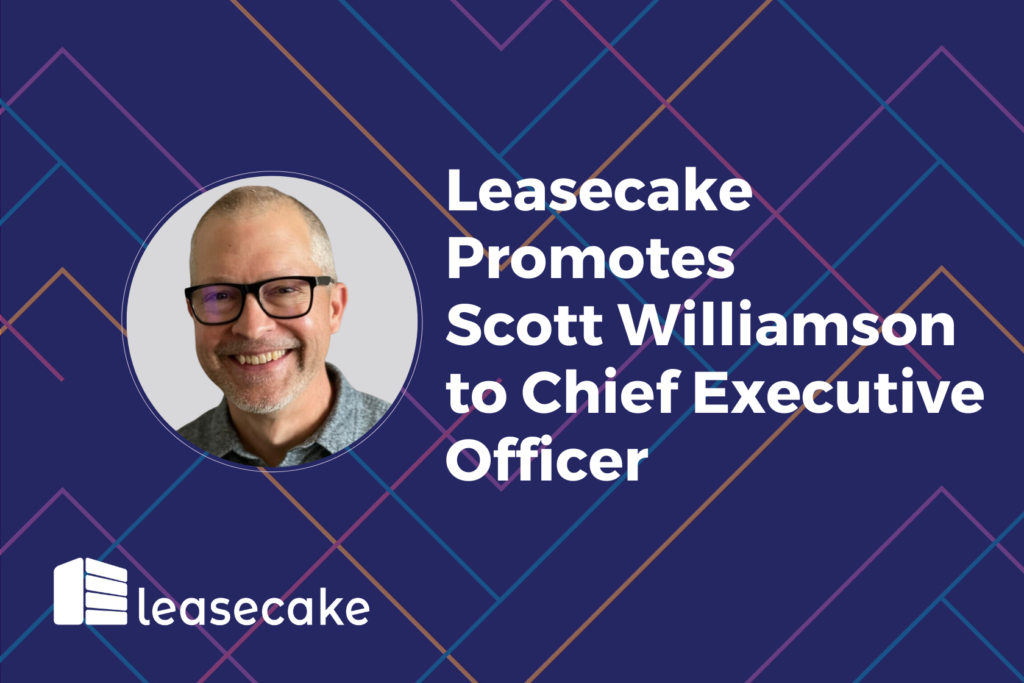 We've got some sweet news to share! Say hello to Scott Williamson, who's been promoted to CEO from his previous role as Leasecake's COO!
Scott brings 35 years of experience in the real estate and technology industries. Before joining Leasecake, Williamson was with JLL and was even a part of the success story that turned ValuD into IBM real estate management software solution, eventually leading to its acquisition by JLL. With a knack for steering companies through speedy expansion and whipping up value for all stakeholders, Scott's got just the right recipe for Leasecake's growth.
Our founder Taj Adhav, the mastermind behind Leasecake's rise from startup stardom to a venture-backed SaaS sensation, isn't hanging up his apron just yet. He's now donning the title of Chief Brand Officer, making sure that the Leasecake brand continues to rise in popularity like a perfectly baked soufflé.
We're excited to announce this news as we think it's the perfect recipe for Leasecake's ongoing journey to sweet success. Williamson, stepping into his CEO shoes, can't contain his excitement: "I'm thrilled to step into this position to lead Leasecake into the next phase of its success story. We have an amazing product that our customers love, and I'm excited to be steering the Leasecake team as we continue to deliver a platform that helps make our clients' jobs easier."
Since our founding in 2017, Leasecake has been on a mission to help multi-unit operators manage all the location-critical events, which get trickier as businesses expand. Today, Leasecake is the go-to tool for franchise and retail location operators.
With Leasecake spreading its frosting across new products and markets, this change in leadership is like adding a secret ingredient to an already winning recipe. It's all about enhancing efficiency, transparency, and making business operations as smooth as buttercream. And you know what they say, a well-baked cake always leaves room for more delightful surprises.
Founder Taj Adhav couldn't be happier about this development: "Our customers have been raving about how Leasecake gives them more time to focus on other parts of their business. I'm confident that Scott will lead Leasecake into its next chapter and beyond."

With Williamson taking the reins in the kitchen, Taj Adhav gets to work on spicing up Leasecake's brand awareness and tackling the unique challenges that restaurants and service-based retail industries face. Just like a well-paired frosting, their roles are complementary, and they're ready to keep serving up the best.

As Leasecake gears up for this next phase, their commitment to exceptional customer service remains as strong as ever. As any good baker knows, you can't compromise on quality ingredients – and that's what we're doing as we build a strong leadership team. Please join us in welcoming Scott as our new CEO! If you'd like to learn more, read the press release.
Remember, Leasecake isn't just your run-of-the-mill lease management platform. It's the confectionery delight for the restaurant and retail industries. Everything you need, from leases to permits, all stored in one simple, delectable platform. With Leasecake by your side, you can have your cake and eat it too – all while keeping track of important dates and tasks.
So, whether you're a multi-location business owner or a franchise enthusiast, Leasecake's got the recipe for success. Want to know more? Contact us to schedule a demo or learn more.
---