Leasecake Named to Inc. Magazine's List of Best Workplaces for 2023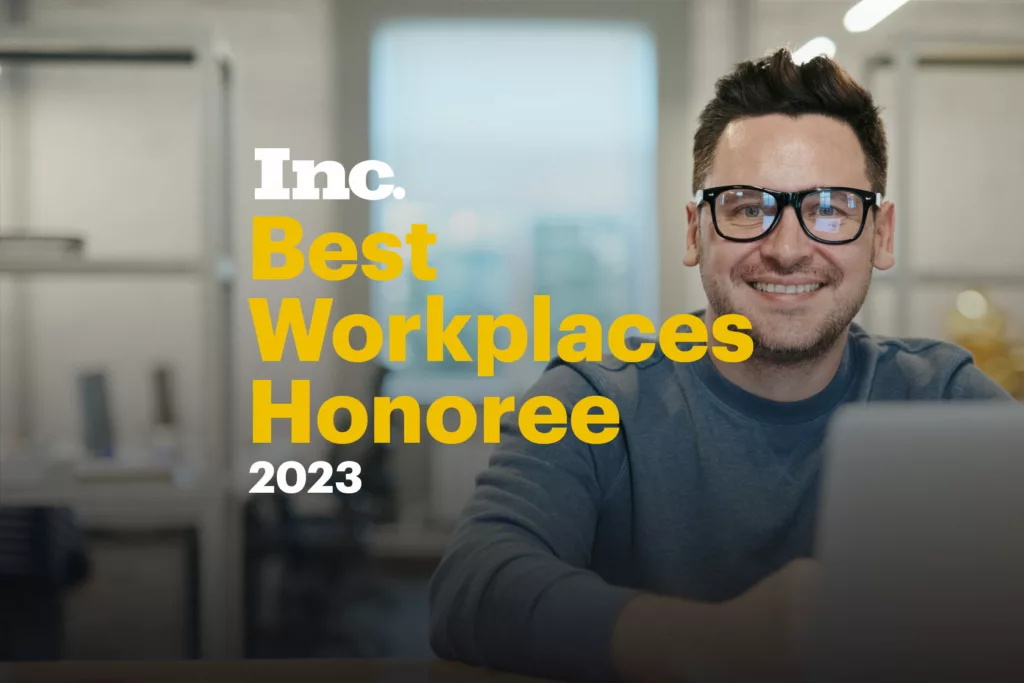 Leasecake is proud to announce we have been named to Inc. magazine's annual Best Workplaces list. The list is the result of a comprehensive measurement of American companies like Leasecake that have excelled in creating exceptional workplaces and company culture, whether operating in a physical facility or remotely.
Leasecake is the industry-leading lease and location management platform, built to help restaurant and retail tenants and brokers manage all of their lease and location data in one place. We are a remote-first company with headquarters in Orlando, Florida, working to provide technology solutions for businesses so they can focus on what matters, when it matters. In addition to these business goals for our clients, we strive to offer our employees a strong workplace culture built on trust, empathy and collaboration.
Inc. selected 591 honorees this year after collecting data from thousands of submissions. Each company that was nominated took part in an employee survey, conducted by Quantum Workplace, which included topics such as management effectiveness, perks, fostering employee growth, and overall company culture. The organization's benefits were also audited to determine overall score and ranking.
"Leasecake was built to be a fantastic place to work, with relationships at the heart of everything we do," said Taj Adhav, Founder and CEO of Leasecake. "We put a lot of time and effort into building strong relationships with both our employees and our customers, and I'm ecstatic to see that we are being recognized for this hard work by being included on the list of the Best Places to Work."
Being named to Best Workplaces is an honor that only a small fraction of companies have been able to claim," says Inc. editor-in-chief Scott Omelianuk. "Proving to the world that you're a magnet for talent and have a culture that keeps teams engaged, productive, and proud to come to work is a truly remarkable achievement."
In addition to ranking on the Best Workplaces list, Leasecake was also included on Inc's Lean and Mean List of companies in the Southeast, as well as their Editors' List.
We're thrilled that our commitment to building an outstanding company culture has resulted in this award, and we know that this recognition supports our mission to be the most admired, innovative, and easy-to-work with company in the world.
Learn more about our awesome company culture at https://leasecake.com/about/.
About Leasecake
Leasecake is the industry-leading lease and location management platform built for the restaurant and retail industries. As the single source of truth for all lease and location information, Leasecake stores all location data in one simple, easy-to-use platform, including leases, licenses, permits, assets, franchise agreements, contact information, important dates, and much more. With collaboration, tasks and auto-reminders, Leasecake helps multi-location operators and business owners stay on top of time-sensitive, mission-critical events, so they can save time, minimize risk, and better manage their growth.
About Inc. Media
The world's most trusted business-media brand, Inc. offers entrepreneurs the knowledge, tools, connections, and community to build great companies. Its award-winning multiplatform content reaches more than 50 millionpeople each month across a variety of channels including websites, newsletters, social media, podcasts, and print. Its prestigious Inc. 5000 list, produced every year since 1982, analyzes company data to recognize the fastest-growing privately held businesses in the United States. The global recognition that comes with inclusion in the 5000 gives the founders of the best businesses an opportunity to engage with an exclusive community of their peers, and the credibility that helps them drive sales and recruit talent. The associated Inc. 5000 Conference is part of a highly acclaimed portfolio of bespoke events produced by Inc. For more information, visit www.inc.com.

About Quantum Workplace
Quantum Workplace, based in Omaha, Nebraska, is an HR technology company that serves organizations through employee-engagement surveys, action-planning tools, exit surveys, peer- to-peer recognition, performance evaluations, goal tracking, and leadership assessment. For more information, visit QuantumWorkplace.com.
---